Today friends, I offer up a somewhat hidden gem in the pedal world: the Ibanez EM5 Echomachine for your perusal. It's a part of the 'Soundtank' or 5 series in Ibanez's line, built from around 1990 until 1999. The Soundtank series was different in that it used a plastic housing instead of metal or aluminum for the pedal enclosures and they were of course shaped like a TANK! Here's some ad-copy from Ibanez regarding the 5 series:
They're called Soundtanks because their high-tech housing and construction is strong enough to survive the worst abuse-whether it's a battlefield or a mosh pit. But more important than Soundtank's indestructibility are the great Soundtank tones-everything from the beautiful Ibanez analog chorusing of the SC5 to the in-your-face industrial carnage of the new Black Noise distortion. Best of all, Soundtanks are affordable, which means you get more tones to your sonic arsenal for lots less bucks.
Of course, any musician who uses pedals will tell you that the above statement is a bit far reaching as anything built of plastic isn't going to survive WWWIII or even a drunken heavy footed stomp. That said, the quirks of the pedals design aren't an issue when looking at the sound of this delay. The Echomachine is an incredibly easy-to-use delay pedal that I find, works in many musical situations.
The EM5 is at it's core, a digital delay pedal that sounds incredibly warm and very much akin to the tones of a great sounding Echoplex or Tape Delay unit. It's repeats are clear, yet warm --- they never "get in the way" of your playing. For this reason, it finds itself on a lot of pedalboards including mine. I was hipped to this beautiful hidden gem via my friend and tone guru David Phillips of LA Sound Design. LA Sound Design recommends these units quite often and can be seen on a lot of the pedalboard systems they make. I'd fraction to say that the seminal aspect the EM5 has could be due to David's love of the pedal, which of course flows right into his clients. One of the most recent converts to the EM5 would be Doyle Bramhall II, who's using it on his recently completed LASD pedalboard.
In our current 'Golden Age' of available choices in the guitar effect world, it's refreshing to find something so simple like the EM5. It only has 3 controls: Echo, Repeat & Speed. It's tone lives mostly in the organic tape like world, and only if you max out all controls will it self oscillate --- beautifully and in a controllable way. The circuit is NOT True Bypass! Oh no! I'm aghast! You're probably asking me why would you go through all of this and recommend me a pedal that's not true bypass!!!??? Well, simply it sounds good. The debate of true bypass, buffered bypass, non-buffered pedals...(that's another rodeo friends) but what I can tell you is that the EM5 does NOT suffer from any of the issues that most non true bypass pedals often do. It will not suck your tone or take your beautifully crafted signal chain and flop a blanket over the whole enchilada. Honestly, I do hear a slight bump in the upper mid range content, which is very pleasing. It's even more pleasing if you have a longer signal chain or a darker rig. On my larger LASD pedalboard, I use it on all the time whether I'm using the delay mix or not. I notice that whole rig sounds better with it on --- a very subtle yet noticeable effect. It helps the notes 'pop out' a little more. I have heard that the EM5 might introduce a tiny bit of clock noise (a sort of ticking sound that is persistent while the effect is on, mostly common with analog delay circuits) in high gain amplifier rigs --- the solution being that it could be in a true bypass loop.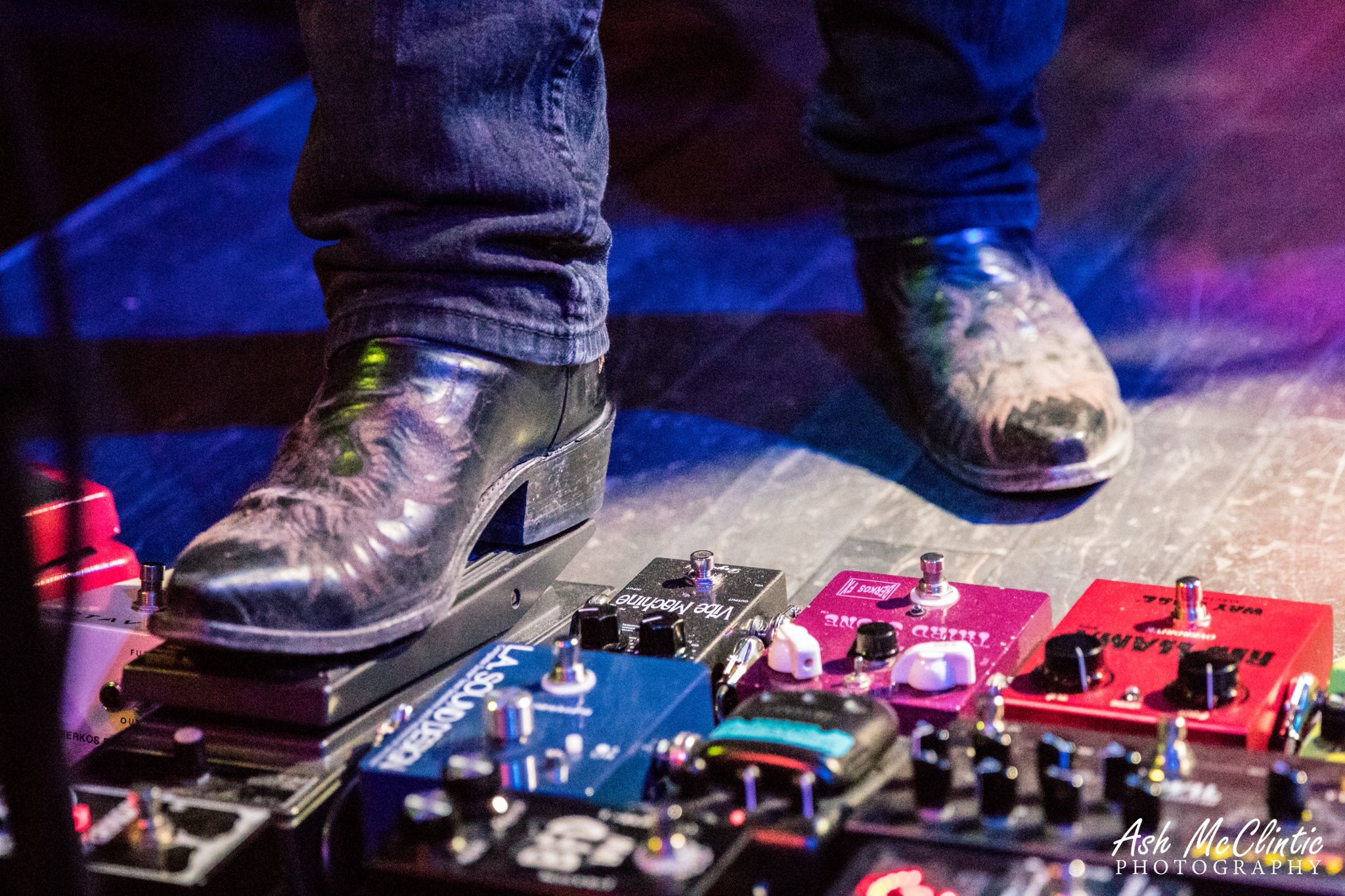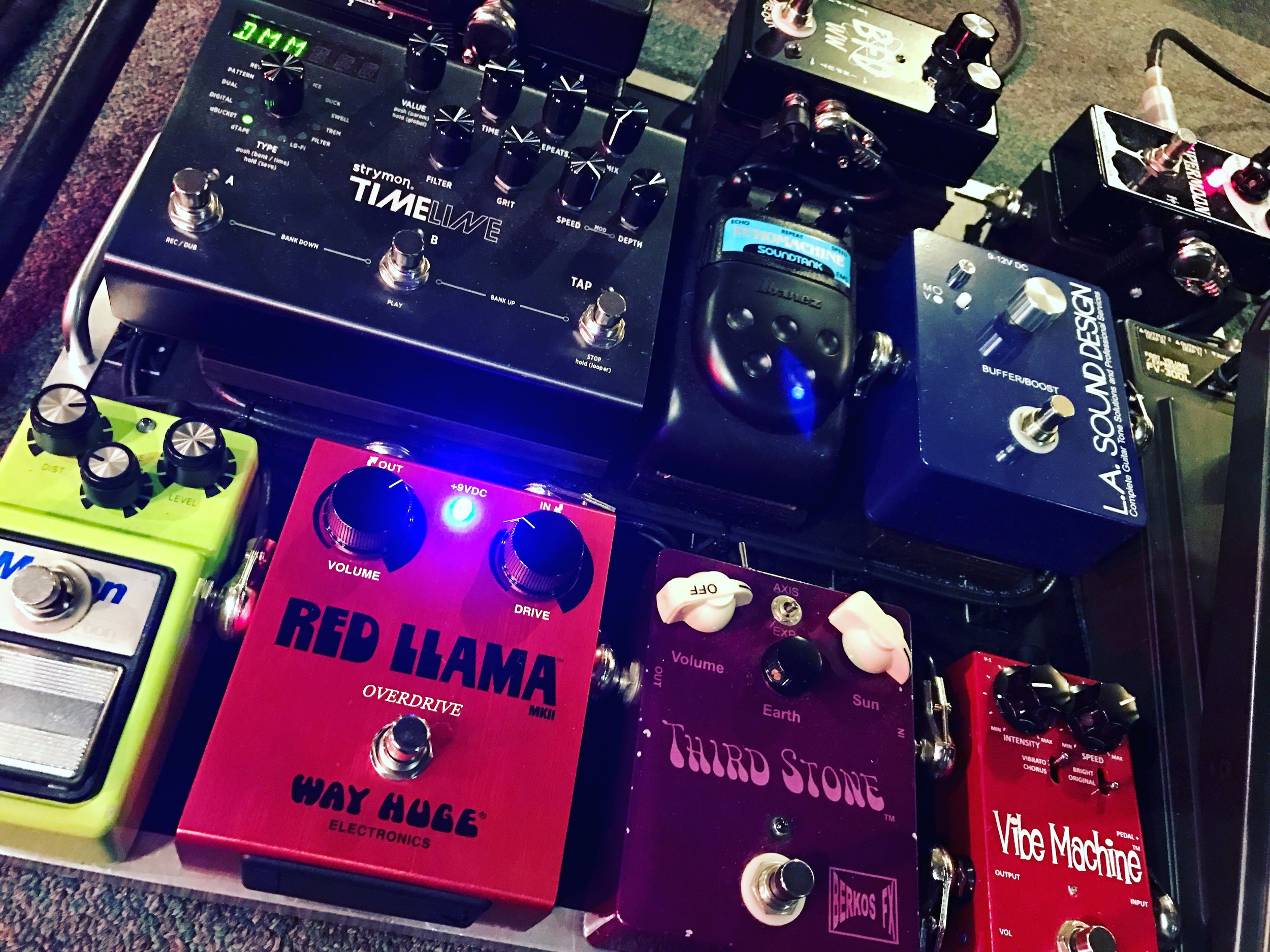 All said and done, the EM5 Echomachine is a proper not-so-hidden gem anymore. Completely worth checking out if you are in the market for a simple, incredibly musical delay pedal without a ton of bells and whistles. They do pop up for sale quite frequently on Ebay & Reverb. I think I'll go and try to find another backup right now!
Happy tone hunting friends... until next time...next time... next time... (get it!? yup a delay joke)